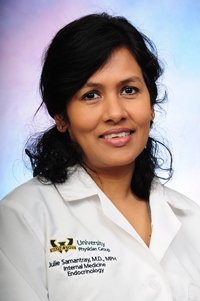 Julie Samantray, M.D., MPH
M.D., MPH, Associate Professor (Clinician-Educator), Service Chief Endocrinology, Karmanos Cancer Center, Medical Fellow/Resident/Student Instruction
313-745-4008
I am a member of the core faculty. My areas of interest are thyroid cancer and benign thyroid diseases. I work mostly in endocrine oncology, managing a myriad of primary endocrine neoplasms as well as endocrine problems in oncology. Our endocrine oncology clinic is one of the few in the country and provides trainees with a unique educational experience.
Post Graduate Training
Dr. Samantry received her medical degree from S.C.B. Medical College, Cuttack, India and completed her residency training in Internal Medicine as well as Fellowship in Endocrinology at Wayne State University/Detroit Medical Center. She is board certified in Internal Medicine - Endocrinology, Diabetes and Metabolism. She also holds a Master's in Public Health (Epidemiology) from the University of Michigan. Additionally, Dr. Samatry is the Service Chief of Endocrinology at Karmanos Cancer Institute and an Assistant Professor and Course Director of Endocrine Pathology at the Wayne State University School of Medicine. She is also Faculty at the American Thyroid Association, Ridgeway Trainee Track Program.
Peer-Reviewed Publications
https://pubmed.ncbi.nlm.nih.go/?term=Julie+Samantry%5BAuthor%5D&sort=date
Joint Appointments