Fellowship - Clinical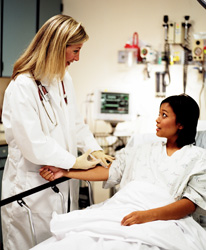 Our clinical fellowship training in endocrinology, diabetes and metabolism is accredited by the Accreditation Council for Graduate Medical Education (ACGME). Our program aspires to providing excellent training in clinical endocrinology, diabetes and metabolic bone diseases; to motivate and inspire innovative clinical and basic research in endocrinology, diabetes and bone biology; and to prepare the trainees to become academic physicians/scientists and future leaders of endocrine research, education and practice.
ACGME-Accredited Endocrine Fellowship for 2 years:
The objective from this training is to prepares the trainee to become skilled in clinical endocrinology and make him/her eligible to sit for the ABIM certifying examination in Endocrinology, Diabetes and Metabolism. During the first year, the trainee is exposed to extensive clinical training in outpatient and inpatient settings, plus didactic core curriculum lectures, journal clubs and case discussion. During the second year, the clinical duties is decreased and the trainee is able to devote more time for a research project. The trainee is expected to make good progress in the selected project before he/she become eligible for the ABIM board by the end of the second year of training. The fellow is expected to take and pass the next possible board certifying examination in Endocrinology, Diabetes and Metabolic Diseases.